Best of the Fest 2018
Sept 14 • PORTLAND..|..Sept 22 • EUGENE..|..program
---
Sept 14 • PORTLAND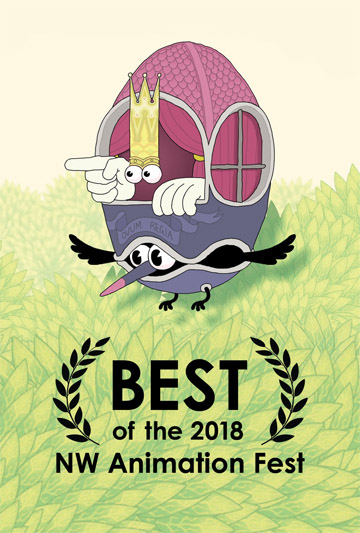 BEST OF THE NW ANIMATION FESTIVAL
| | |
| --- | --- |
| Date: | Friday Sept 14 @ 7:00 & 9:30pm |
| Length: | 99min |
| Venue: | Hollywood Theatre |
| Address: | 4122 NW Sandy Blvd, Portland OR 97212 |
| Tickets: | $12 general admission • $10 senior/student |
See this year's best animated shorts from around the world! Audience votes helped distill 1500 submissions down to twelve fan favorites. Couldn't attend the week-long festival back in May? This Best of the Fest show squeezes the most astonishing films into one incredible screening.
Some of what you'll see: The sun walks upon colossal legs to the end of the world, passing both birth and death on its way to meet a young bicyclist for tea. In a strange land where every plant and animal kingdom has its own monarch, one mad king sets out to steal ALL the crowns. Amid the onslaught of daily irritations, pent-up impatience wins out: folks have had enough, they throw up their hands and just stop. Two lovers on a romantic weekend getaway have a birth control mishap and must decide what happens next. A jungle tiger gets loose aboard an orbiting space station, causing hilarious trouble for the resident astronaut and his goldfish. In a tight-knit New England community, the arrival of a jovial barber provides a mystical woodland creature with the opportunity to unseat the town's mean-spirited minister. Humanoid sardines, mice, and monkeys perform an utterly surreal mini-opera about working in low-status jobs — leaving the audience with an almost painfully beautiful feeling of existential hope.
Get your tickets early… One night only!
Not Rated. Parental guidance recommended. Mature content: nudity, sexuality.
.

View Larger Map
.
---
Supported By: