Best of the Fest 2013
Sept 7 • PORTLAND | Sept 14 • EUGENE | program
---
Sept 14 • EUGENE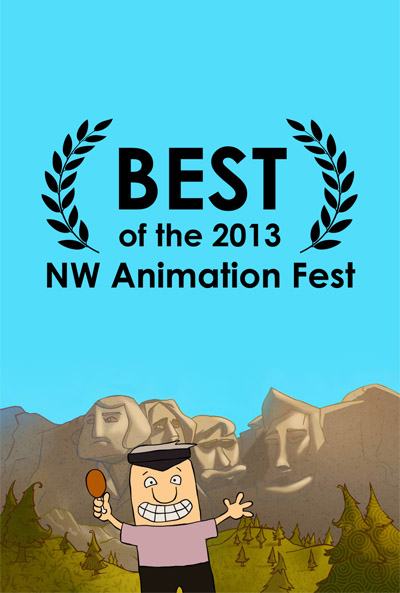 BEST OF THE NW ANIMATION FESTIVAL
12 audience favorites, one day only
| | |
| --- | --- |
| Date: | Saturday Sept 14 @ 1:00pm & 7:15pm |
| Length: | 98min |
| Venue: | Bijou Metro |
| Address: | 43 W. Broadway, Eugene OR 97401 |
| Tickets: | $5 matinee • $7 adult, $6 student, $5 senior |
NW Animation Fest presents twelve of this year's best animated shorts from around the world! Here's some of what you'll see…
An eccentric thief eats the paintings that he's stealing from museums and is transformed into fantastical creatures. A wolf hunter rescues a wild boy who grew up alone in the forest, but can't save him from civilized society. Excited by the rhythms of traffic, the driver of a trolley bus entertains whimsical erotic fantasies about her male passengers. Threatened by a volcano, two bumbling cavemen seek assistance from a fabled tyrannosaur practicing the skills of trigonometry and long division—the mighty Pythagasaurus.
This spring, NW Animation Fest hosted the largest showcase of short animations in the USA: over 150 films. Audience members helped create "Best of the Fest" by voting for their personal favorites. Special award winners will be announced on Sept 14. One day only!
Mature themes: playful sexuality, urban squalor, drug use
.

View Larger Map
.
---
.
Supported By: