Best of the Fest 2016
Sept 8 • PORTLAND..|..Sept 17 • EUGENE..|..program
---
Sept 17 • EUGENE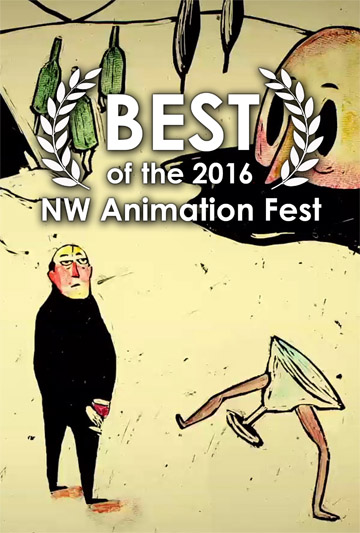 BEST OF THE NW ANIMATION FESTIVAL
| | |
| --- | --- |
| Date: | Saturday Sept 17 @ 2:15, 5:00, 7:45 |
| Length: | 94min |
| Venue: | Broadway Metro |
| Address: | 43 W. Broadway, Eugene OR 97401 |
| Tickets: | $6 matinee • $9 evening |
See this year's best animated shorts from around the world! Audience votes helped distill 1300 film submissions down to just the top thirteen fan favorites… Best of the Fest films are literally 1-in-100. Couldn't attend the week-long NW Animation Fest back in May? This anthology squeezes all the Strange Delights that you simply must not miss into one incredible show.
Some of what you'll see: A tsunami survivor returns a monstrous and magical fish god to the ocean. A young gay man joins his boozy family for their weekly Sunday lunch; with wry wit he observes his aunts' ridiculous questions, his mother's sexual nostalgia, and the bittersweet love hidden beneath awkward silences. An anxious vacationer wonders if she left the stove on, and imagines a series of increasingly hilarious scenarios transpiring back home. A rocket ship package delivery service makes first contact with a microscopic civilization of one-eyed, purple aliens. Filmmaker & Best of the Fest alumnus Rory Waudby-Tolley shares his conversations with Mr. Madila, Spiritual Healer… Exploring the inner mind, the fabric of the universe, and the nature of reality itself, through the sacred art of animation. Oooooooh.
Get your tickets early — one day only!
Not Rated. Most shorts suitable for all ages. "Sunday Lunch" includes comedic nudity, sexual references.
.

View Larger Map
.
---
Supported By:
.

.