Portland Animation Now!
@ Cinema Pacific
attend the show | program of films
---
Attend the Show: April 20, 2012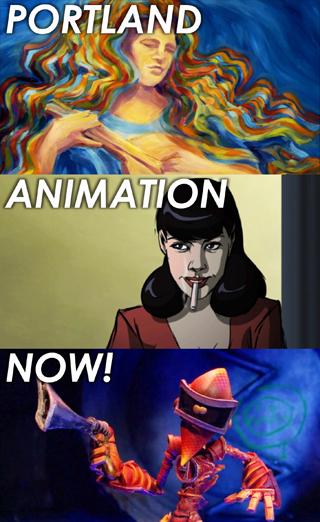 DISCOVER PORTLAND'S POWERHOUSE ANIMATION SCENE
Portland Animation Now! showcases 20+ short films from local independent animators. Including both masters and remarkable amateurs, this is a line-up of new works and seldom-seen gems you won't find anywhere else.
SHOWTIMES
April 20 @ 7pm
RUNTIME
95 minutes
TICKETS
$8 general public
$6 students / seniors
CLICK HERE to buy advance tickets
VENUE
Bijou Art Cinemas
492 East 13th Ave
Eugene, OR 97401
Amazing short films from Portland's powerhouse animation scene! The city that produced the California Raisins, the voice of Bugs Bunny, the creator of The Simpsons, and hit feature films such as Coraline, Portland has become the hub for a dynamic and diverse grassroots animation scene. Portland Animation Now! is a showcase of twenty-two animated short features from local independent animators, including experienced masters and exceptional amateurs. Presented by the same people who organize the Northwest Animation Festival, an event that seeks to shine a light on remarkable but obscure animated short films, Portland Animation Now! is a ninety-minute attraction that presents a wide variety of entertaining and artistic films involving a mix of animation styles. Highlights include: Ursula 1000–Rocket by Eric Kilkenny: A love story told as a fever dream involving stolen works of art, dualistic robot terminators, and a giant floating head who seriously needs his moustache trimmed. Ruby Rocket, Private Detective by Sam Niemann and Stacey Hallal: It had been a long night and Ruby Rocket, Private Detective, needed a stiff one–then HE walked in. Missionary by Mike A. Smith: Geopolitical allegory as cartoon slapstick, featuring eggs and fearsome hand-on-stick technology. Old-Time Film by Barbara Tetenbaum and Marilyn Zornado: Handset type, printer's ornaments and antique engraving come to life in the first film created entirely through letterpress printing. Operation: Fish by Jeff Riley: After a series of goldfish abductions, a secret agent is dispatched to bring the fishnappers to justice, and possibly save the world!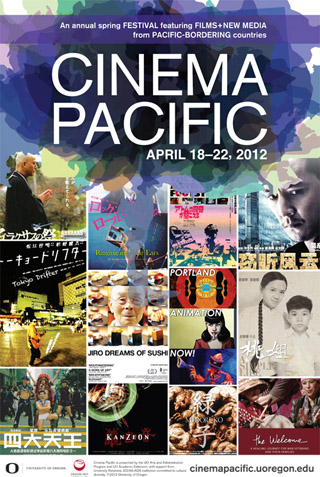 CINEMA PACIFIC FILM FESTIVAL
Portland Animation Now! is being presented as part of Cinema Pacific, an annual film festival based at the University of Oregon in Eugene that is devoted to discovering and fostering the creativity of international films and new media from Pacific-bordering countries, including the U.S. Through onsite and online presentations, the festival connects stimulating artists and ideas with a diverse public, furthering our understanding of world cultures and contemporary issues.
CLICK HERE to buy advance tickets
THURSDAY, APRIL 19
• Tokyo Drifter – with guest director Matsue Tetsuaki
• Midori-Ko – introduced by festival fellow Jonathan Hall
FRIDAY, APRIL 20
• Portland Animation Now! – with animator Sven Bonnichsen
• Overheard 2 – with actor Danie Wu
• The Echo of Astro Boy's Footsteps – introduced by Jonathan Hall
SATURDAY, APRIL 21
• The Heavenly Kings – with guest actor/director Daniel Wu
• Kanzeon – introduced by Jonathan Hall
• Ringing in their Ears – introduced by Jonathan Hall
• A Simple Life – with producer-screenwriter Roger Lee
• Adrenalin Film Project and Afterparty
• Abraxas – introduced by Jonathan Hall
SUNDAY, APRIL 22
• The Welcome – with guests Bob and Moe Eaton
• Jiro Dreams of Sushi – with fresh sushi at concessions!
MAP
View Larger Map