NW Animation Fest 2012
attend the show | schedule overview | friday | saturday | official selections | sponsors | poster
---
Attend the Show: May 18-19, 2012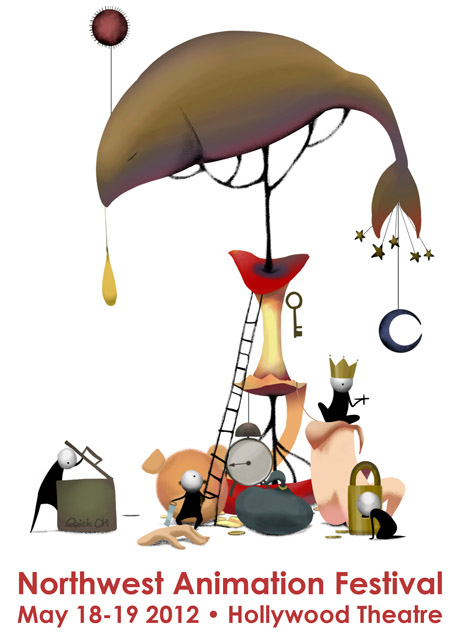 AMAZING SHORTS FROM AROUND THE WORLD!
The 2012 Northwest Animation Festival showcases nearly 60 short films from 15 countries, representing the very best of contemporary animation.
SHOWTIMES
7-11pm
Friday, May 18
Saturday, May 19
different program each night
TICKETS
in advance: $12 for one night / $20 for both
at the door: $15 for one night / $25 for both
CLICK HERE to buy tickets
VENUE
Hollywood Theatre – main auditorium
4122 NE Sandy Blvd
Portland, Oregon 97212
PARKING
In addition to street parking around the theatre, Hollywood patrons can park in the Broadway Medical Clinic lot (4212 NE Broadway) on nights and weekends.
HIGHLIGHTS…
The Northwest Animation Festival is a variety show that emphasizes fun and artistically daring short films from independent artists. Special treats this year include entries from many Oscar contenders, work by sculptor/filmmaker John Frame (concurrently on exhibit at the Portland Art Museum), a sneak peek into LAIKA's forthcoming feature film ParaNorman, and a guest appearance by Bill Plympton.

• Oscar Contenders
Ever wondered while watching the Academy Awards where you can see more than just those intriguing clips they play? You've found the place! We've got ten of the 2012 contenders for Best Animated Short Film — including this year's Oscar-winner, The Fantastic Flying Books of Mr. Morris Lessmore.
.

• Sneak Peek at LAIKA's new feature, ParaNorman
Friday night, the evening concludes with a special hour-long presentation from LAIKA — the company behind 2009's hit animated feature film, Coraline. Get a behind-the-scenes look into LAIKA's stop-motion masterpieces, Coraline and ParaNorman (coming to theaters Aug 17, 2012). Mark Shapiro will present time-lapse imagery and short vignettes that detail the major undertaking involved in creating these two films. Production puppets from Coraline will be on display. Stay to the end for rarely-seen clips from ParaNorman, along with the newest trailer.

• John Frame's Fragments, more at Portland Art Museum
Saturday night, see Three Fragments of a Lost Tale by sculptor/filmmaker John Frame — then later, go see his astonishing craftsmanship on display at the Portland Art Museum. For the past six years, Frame has been working to transform meticulously carved wood and found objects into a haunting and beautiful filmic world — all based on dream images that occurred to him in a single life-changing night. From Feb 18 – May 27 the museum will be exhibiting puppets, sets, photos, and animated vignettes from the artist's feature-length project, The Tale of the Crippled Boy.

• Bill Plympton guest appearance
Saturday concludes with a guest appearance from Bill Plympton—widely recognized as the "King of Indie Animation." Bill and Alexia Anastasio will talk about their recent documentary, Adventures in Plymptoons!, and show a new animation clip.
.
.
FAMILY RATING
Some adult themes and intense imagery.
MAP

View Larger Map