Best of the Fest 2017
Sept 15 • PORTLAND..|..Sept 23 • EUGENE..|..program
---
Sept 15 • PORTLAND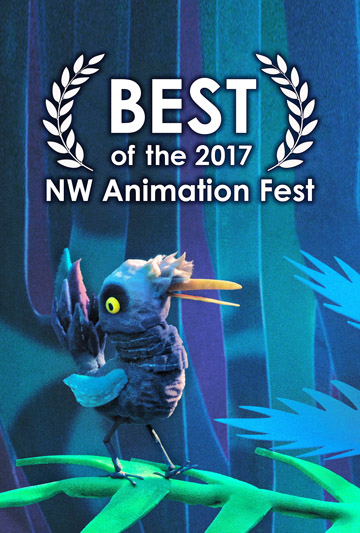 BEST OF THE NW ANIMATION FESTIVAL
| | |
| --- | --- |
| Date: | Friday Sept 15 @ 7:00 & 9:30pm |
| Length: | 95min |
| Venue: | Hollywood Theatre |
| Address: | 4122 NW Sandy Blvd, Portland OR 97212 |
| Tickets: | $12 general admission • $10 senior/student |
See this year's best animated shorts from around the world! Audience votes helped distill 1100 submissions down to thirteen fan favorites. Couldn't attend the week-long festival back in May? This Best of the Fest show squeezes the most astonishing films into one incredible screening.
Some of what you'll see: An exotic bird ripped from the jungle adapts to city life in hilarious ways. Giant insect overlords have taken over, but the staff of an elegant restaurant plots to overthrow their oppressors. A colonist on Mars gets fired from his job, and discovers new self-reliance outside the dome. A girl decides to indulge in a sensual evening of solo-pleasuring, yet her unruly body seems to have a mind of its own. A young man recounts what it was like to be living in Syria as the Islamic State seized his city. An eccentric husband uses his powers of precognition to foresee both the fate of humankind and what's for breakfast; his wife foresees an imminent divorce. Two best friends deal with the hope and heartache of an unrequited crush — while staying at a surreal summer camp populated by aliens, unicorns, and monsters under the bed.
Get your tickets early… One night only!
Not Rated. Parental guidance recommended. Mature content: nudity, sexuality.
.

View Larger Map
.
---
Supported By: