NW Animation Fest 2011
attend | overview | friday | saturday | sunday
---
SUNDAY JUNE 5
3:00pm – 6:00pm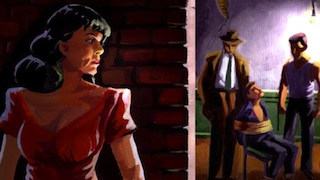 Ruby Rocket, Private Detective
by Sam Niemann & Stacey Hallal
It had been a long night and Ruby Rocket, Private Detective needed a stiff one. Then HE walked in…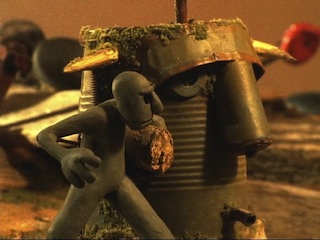 The Quiet Life
by Timothy Hittle
Jay Clay and Blue have built a home and Jay is content to live a quiet life. Yet trouble is never far away, and soon chaos is at his door. He encounters two visitors amid the mayhem, and his life is forever changed.

Sequel to the Oscar-nominated film, CanHead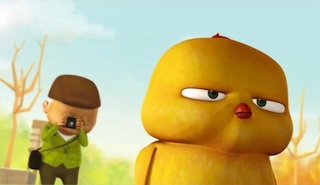 Cheez…z
by Arut Tantasirin
This story is about Yamazaki, an old man who tries to take a picture of Warbie, a little bird. The problem is that Yamazaki is too slow for this tricky bird.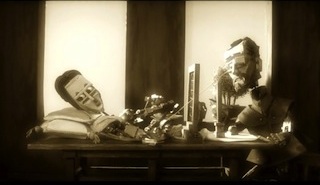 Man Drawing a Reclining Woman
by Grant Goans
The stop-motion short, Man Drawing a Reclining Woman, brings to life the characters represented in Albrecht Dürer's 16th century woodcut. A draughtsman persuades a woman to be the subject of his artistic studies. She soon discovers the specialized tools and methods he utilizes to render the human figure on paper.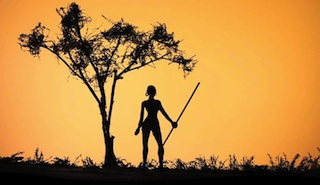 Solstice
by Caroline de Coninck
This legend tells of a huntress who would influence the origin of day and night.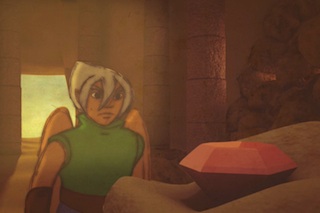 Marauder's Mistake
by Christina Beard
Two gangs of pirates fight over a precious jewel.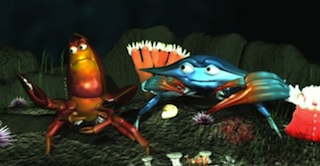 Courageous Crustaceans
by Dayan Paul
Over 250 million years ago, the ocean is a wild place where we can see the first game of cat and mouse take place amongst primeval predator and prey. Theo the lobster and Verm the crab, two streetwise shellfish, use a defense technique very different from other survivors of the sea… Their specialty is the use of practical jokes. It's their twisted sense of humor that keeps them alive!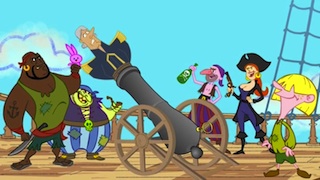 Pirate Scum
by Patrick Lake
Cap'n Crusty and his pirate crew are bent on pillaging, staying up past midnight, and doing what they please. Having tied up heroic Admiral Peacock, nothing can stop their dirty deeds… Except perhaps a trip to the Pirate Spa?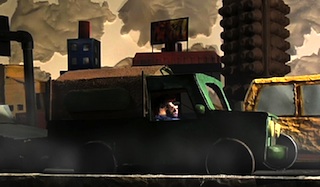 The Rising Path
by Ian Pilger
Two farmers stuck in heavy traffic are suddenly whished away by their magic truck. The polluted environment transforms around them into a cleaner more energy-efficient world.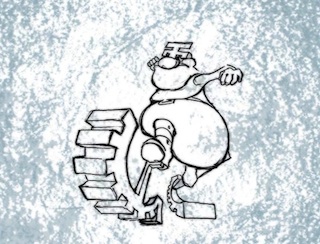 Missionary
by Mike A. Smith
Geopolitical allegory as cartoon slapstick, featuring eggs and fearsome hand-on-stick technology.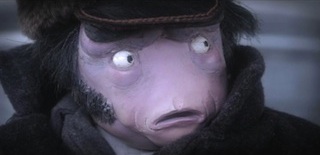 The Nose
by Neil Burns & Dean Holmes
Based on the Nikolai Gogol story of the same name, The Nose uses stop-motion animation to tell the strange tale of a vain and ambitious civil servant who wakes up one morning to find that his nose has disappeared.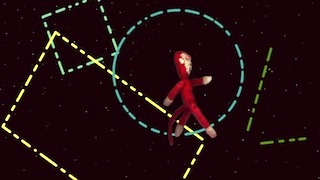 Sorry Film Not Ready
by Janet Perlman
This film was made by accident using experimental animation invisible to the naked eye. The story involves the dramatic interplay between an ear of corn, a space monster, a hammer and a platypus.
INTERMISSION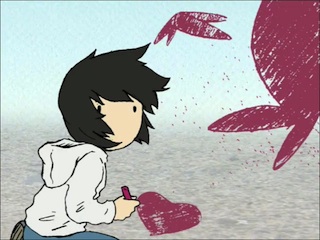 Breath
by Kartika Mediani
Metaphors of various matters that happen in life, and how different circumstances affect them in relation to our memories, which give impact to the emotions we feel.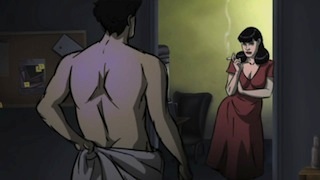 Ruby Rocket, Private Detective Web Series
by Sam Niemann & Stacey Hallal
The continuing mis-adventures of Ruby Rocket, Private Detective.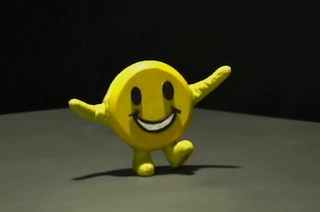 The Thought
by Britain Cramer
A man tortured by a thought seeks to destroy it—only to destroy himself.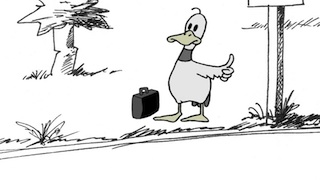 Landscape with Duck
by Patrick Neary
A wayward duck tries to catch up with his companions on their migration south.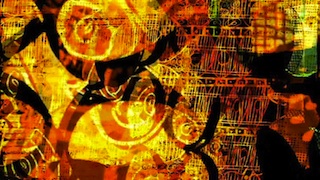 Roundabout
by Peter Byrne & Carole Woodlock
Roundabout is an inquiry into landscape and memory, movement and flow. A cascade of imagery interweaves and sweeps on a circuitous journey interrupting one's sense of balance and location. The visual imagery employs gesture, layering, randomness, pattern and color to evoke a sense of becoming. Live action footage, with hand-drawn and computer generated composite animation sequences come together in order to establish a shifting and layered sense of time and place.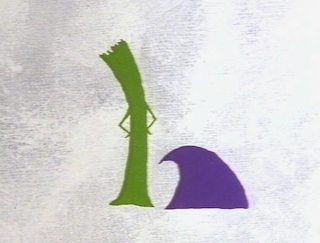 Brushstrokes
by Ken Kimmelman
Produced for the United Nations, this film shows through humor how ridiculous prejudice looks when it's made to walk the floor.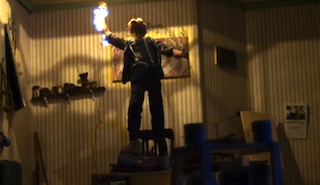 Light
by Emily Baxter
An elderly artist's frustration results in the pursuit of a fleeting dream.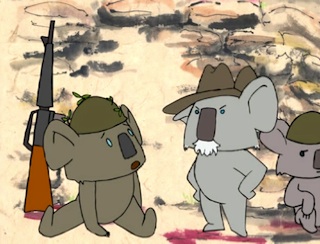 The Thin Gray Line
by Paul Brown
An army of unlikely heroes defends against a marauding robot.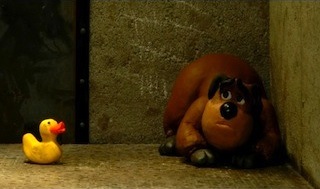 Gerald's Last Day
by Justin & Shel Rasch
Gerald the dog is scheduled for termination at the dog pound at 5:00 today. Can he seduce an adopter before his time runs out?
INTERMISSION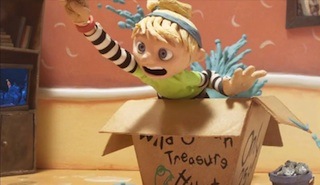 The Box Game
group project by students from The Art Institute of Portland
Kevin's sister is too grown up for the make-believe games that he and his friends like to play. When she tries to stop their cardboard box game, she discovers that the vital worlds of imagination have their own reality and are available to all ages.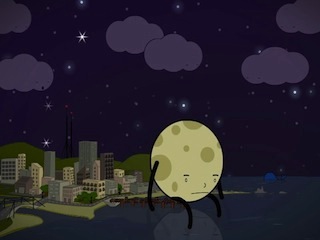 Moon Diary
by Curtis Randolph
A lonely, childlike moon keeps a diary of his depression, boredom, and recurring nightmares. His daily realities seem to be based on dream logic: clouds with bovine personalities, teeth with eyes and mailmen who fly in balloons.